Beautiful gifts that will bring a tear
Mother's Day is special, so don't forget to wish mum a "Happy Mother's Day" and let her know she means the world to you. She gave you all the love and care, raised you, put up with your rebellious teenage years, and made you what you are today. She deserves nothing less than a beautiful Mothers Day gift carefully considered and straight from your heart. Finding just the right gift for mum can be a challenge; she has everything (and besides, she already has you!). So, to help, we have handpicked a selection of gifts that might just tug at her heart strings.
Mother's Day Gift - Relax and Unwind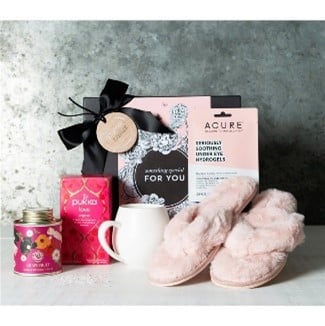 Mum deserves to be pampered. Send this Mother's Day – Relax and Unwind Gift with a message to mum to relax and unwind. With a pair of Annabel Trends Pink furry slippers, bath salts, soothing eye hydrogels, a Hug Me Mug and some Pukka Love Tea, your gift will be heaven sent.
Is there a combination more powerful than chocolates + flowers for mum? This Mother's Day Chocolate Tulips gift bouquet is perfect. Tulips are a symbol of deep, unconditional love, just like the love of a mother. For thousands of years, motherhood has been associated with flowers, as both represent fertility and life. Flowers are also a symbol of beauty and honour, just like mum. And chocolates are a
reminder of the sweet bond you share especially if mum has a sweet tooth!
Mother's Day Cheese Board and Knife Set
This personalised Mother's Day Cheese Board and Knife Set is a grand gift for Mother's Day - give your mum something to flaunt. Not every mum can show off a cheese board that is personalised with love. You know this Mother's Day Cheese Board and Knife Set will be well used. "Have her name or a thoughtful message engraved in a cheese board and knife set. Even the guests will be wondering what's written beneath the crackers, prosciutto, olives, and fruits.", suggests Luke Wood, food quality manager at Monkeyfoodz.
Mother's Day Tasting Wine and Cheese Deluxe Hamper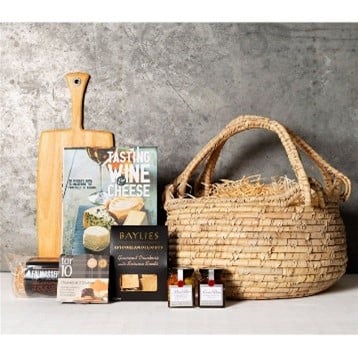 Can't get together with mum to celebrate Mother's Day? Send this deluxe hamper instead. She will be delighted with a basket filled with premium-quality goodies. This Mother's Day Tasting Wine and Cheese Deluxe Hamper with an assortment of nibblies, a cheeseboard and the Tasting Wine and Cheese book will be enjoyed and the Fair Trade handmade basket will be put to good use. It is a lovely Mother's Day Gift.
Mothers Day Best Mum Tea Towels
You have the most practical mum? No problem, these personalised Best Mum Tea Towels will definitely be useful especially if she is always cooking up a treat in the kitchen to keep the family fed and happy. This heartfelt reminder that 'mum's the best' will not go amiss even for the most practical mum. She will love it!
Memories of your childhood will surely be one of mum's most precious treasures. It is time to pull out those old photos, cards, trinkets and memories and put them all into this Memory Box to remind her of those beautiful times. Even if she needs no reminding, it will be a gift she will treasure forever. Made of buffalo leather, this memory box is tough and will last and last. This Memory Box has a slot to insert a photo to rekindle a happy moment. Choose her favourite photo of you!
And for the mum who has lots of jewellery, Mother's Day might just be the time to get her a new jewellery box, large enough to store all her earrings, rings, necklaces and accessories. This high gloss Piano Finish Wooden Jewellery Box is beautifully made from quality timber, with a gloss piano finish, and comes with a mirror inside. The compartments of the jewellery box are lined with classic velvet inner lining and the multiple compartments are perfect to keep all her jewellery organised.
There is so much to choose from. Start shopping early to make sure you find the best gift for mum for Mother's Day. Delivery is FREE anywhere within Australia. And if you would like to have your gift specially wrapped and a gift message to go with it, order 'Red Wrap It!' and your gift will be just perfect.
Start Shopping:
Mother's Day Gifts
Gifts for Mum